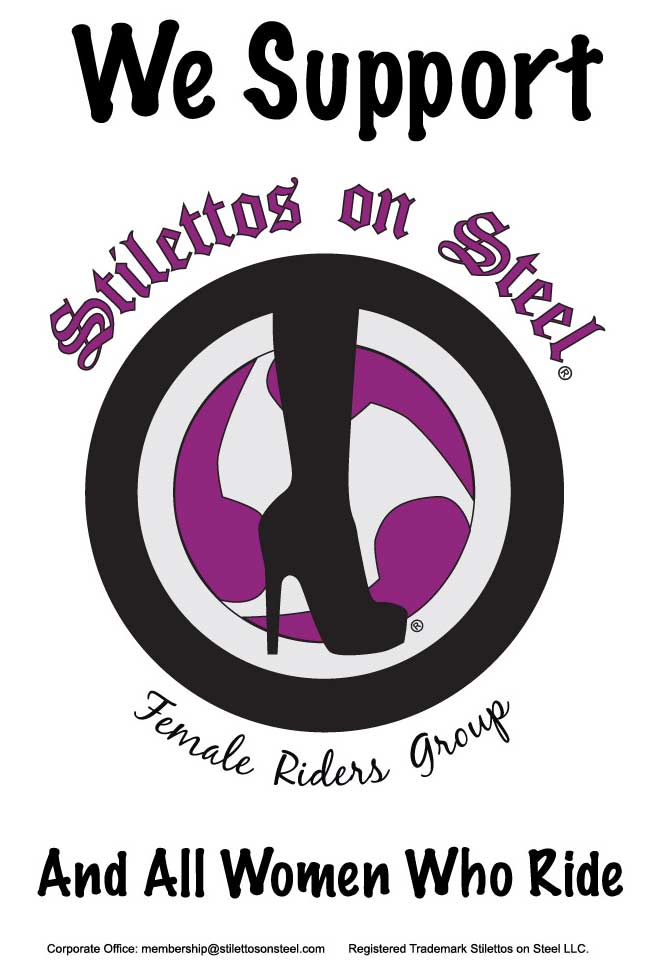 Supporters
Our Supporters
Seeking to Advertise With Stilettos on Steel?
Stilettos on Steel® Female Riders Group, LLC is an all-female social riding group reaching over 600 active members in 2017, with over 5,000 fans on Facebook, and we are looking for amazing supporters like you to continue our mission to unite female motorcyclists of all skill levels for friendship, support, and peer-to-peer or professional learning opportunities that will make them knowledgeable and safe motorcycle operators.

All Stilettos on Steel® officers donate their time and resources to grow Stilettos on Steel® into an international support group for women riders. These women have the passion to grow the female motorcycle rider community to new heights through new rider mentorship and continuing education for experienced riders wherever we meet. Our Chapter Officers and their members are always excited to attend motorcycle events in their area, support local businesses, and spread the word on their great experiences. In addition to in-person promotion, the Stilettos on Steel® website and Facebook pages reach a combined 80,000 people per month, making us a great online promotional resource for your business.
Stilettos on Steel® offers you:
Marketing for your business through our Facebook page and website
Event promotion and/or host assistance for your business by local Chapter members
Positive female presence at your place of business or events, acknowledging you are a female-friendly establishment
Grow a wider customer base for you through our mentoring of new riders
Increased business opportunities for you through Stilettos on Steel® rides and winter season meetings
Exposure to target female riding community at a variety of events, meetings, and rides
Opportunity to sponsor annual events, contests, or other high profile Stilettos on Steel® events
Display "We Support Women Who Ride" poster and Stilettos on Steel® business cards
In turn, Stilettos on Steel® is asking for mutual Facebook and website promotion along with any of the following sponsor level options:
Display "We Support Women Who Ride" poster and Stilettos on Steel® business cards
Pre-ride or winter season meeting space
Free or discounted food and beverages with Stilettos on Steel® member ID
Raffle donations or door prizes
Advanced invitation to events, rides, or sales
Discounts on merchandise, services, or parts with Stilettos on Steel® member ID
Donation to local Chapter's charity or cause of choice
For more information, please contact Burklin@stilettosonsteel.com